Profound RF is a non-surgical way of tightening your skin. Using energy waves, Profound tightens the deeper layers of skin – creating a tighter and firmer appearance on the surface.
You are probably familiar with the top layer of skin, known as the epidermis. This is the only layer we can see and is much thicker than you may expect: because our skin is constantly creating new cells and shedding the dead ones, this layer is packed with healthy cells growing under the surface.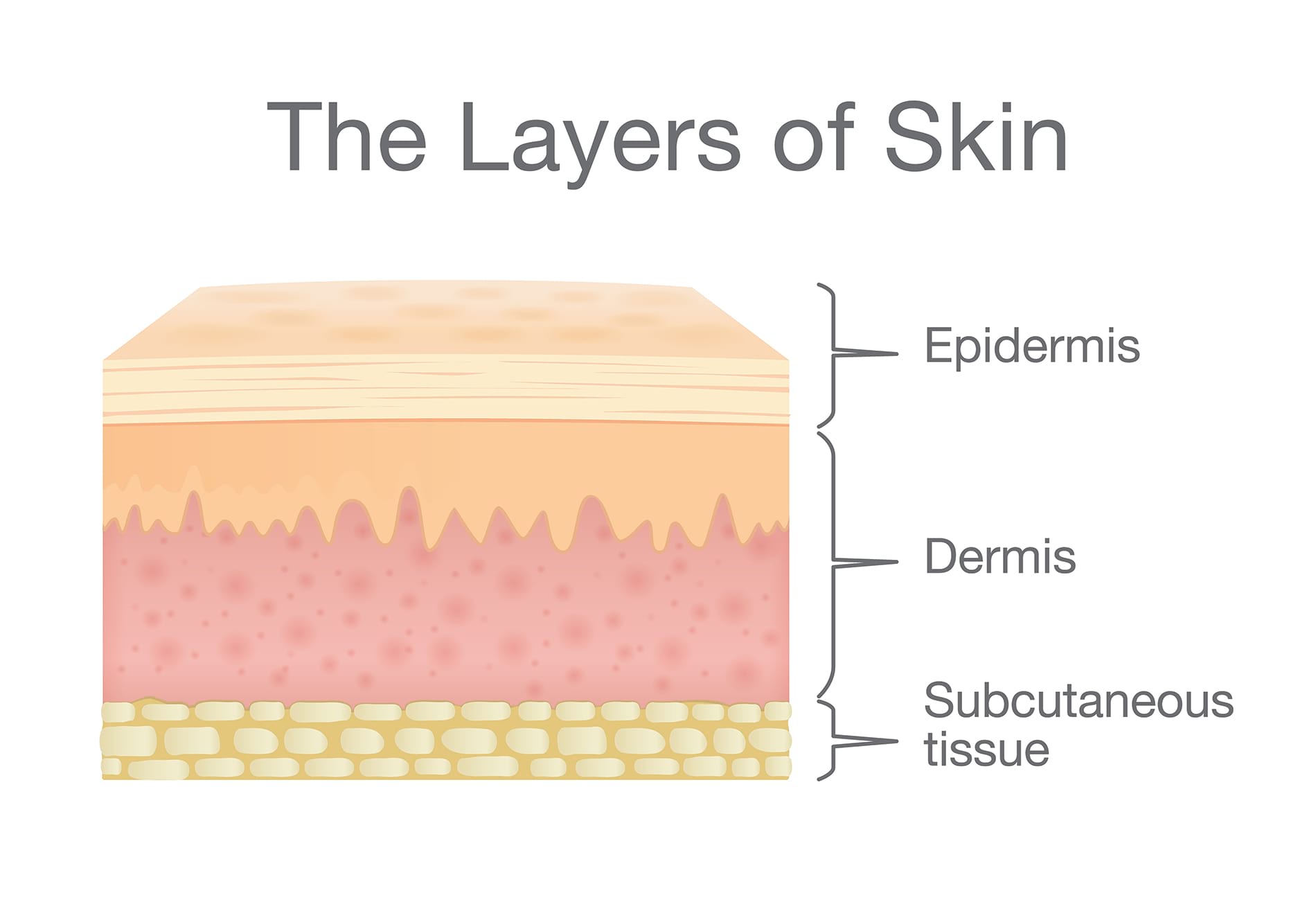 Under the layers of new skin cells growing in the epidermis is the dermis. The dermis is thicker than the epidermis and is made up of connective tissue, oil glands, nerve endings, and other elements that support our skin structure.
Before discussing why radiofrequency is used, let's dive a little deeper into the dermis and what happens there.
As we know, the dermis is full of things that support our skin structure. This is where our skin produces the building blocks that work together to contribute to tightness and firmness.
There are three main building blocks:
Elastin
Hyaluronic acid
Collagen
Naturally, over time, our skin cells become sluggish and start to miss the mark in both quality and quantity of production of these building blocks. This is what causes our skin to start to sag and appear loose. Our skin cells begin to do this as early as age 35.
How does Profound RF address this?
We want our skin cells to produce more elastin, hyaluronic acid, and collagen. This is where the energy waves come in! We need to introduce heat to kick-start production.
Luckily, the radiofrequency energy waves are hot – they can heat the deeper layer of our skin to temperatures around 122-167 degrees Fahrenheit. The high temperature is only necessary for a few seconds to "shock" our skin cells and mimic an injury. The cells identify this "injury" as a problem that needs to be fixed. The method of attack? Produce more elastin, hyaluronic acid, and collagen.
In short: consistent heat from energy waves stimulates new production of the three building blocks, causing our skin to tighten.
What areas can be improved?
Radiofrequency can be used almost anywhere to address wrinkles, skin folds, cellulite, and textured skin. Some of the most commons areas are the upper abdomen, arms, thighs, face and neck.
To improve facial wrinkles and achieve the look of a face lift without having to undergo surgery, opt for a Profound treatment to the face and neck!
What does recovery look like? Will I need to take time off from work?

There is virtually no down time after treatment. You will experience bruising on the area and slight sensitivity, but little to no pain. Any discomfort in areas where fabric rubs against your skin – like your arms, abdomen, or legs – can be alleviated by wearing loose fitting clothing. Redness and slight bruising on your face and neck can be covered with makeup.
We are passionate about patient care at Capizzi M.D. and always ensure that each person we treat leaves feeling satisfied and comfortable. With radiofrequency treatments, we offer a recovery kit from Alastin skincare. The kit includes a Gentle Cleanser, Ultra Nourishing Moisturizer, Broad Spectrum Sunscreen SPF 30, Sooth & Protect Recovery Balm, and Regenerating Skin Nectar. If you have skincare concerns post-treatment, we also have two experienced Licensed Medical Aestheticians available to answer all of your questions.
In addition to the recovery kit, we offer a complimentary lymphatic massage at your first follow up visit after treatment to aid in recovery and comfort.
If you're interested in learning more about Profound RF, we would love to have you in for a consultation. Fill out a consultation request or give our front office a call at 704-655-8988 and a member of our Patient Care team will assist you in setting up an appointment.
We're here to help you look and feel your best in any way we can!